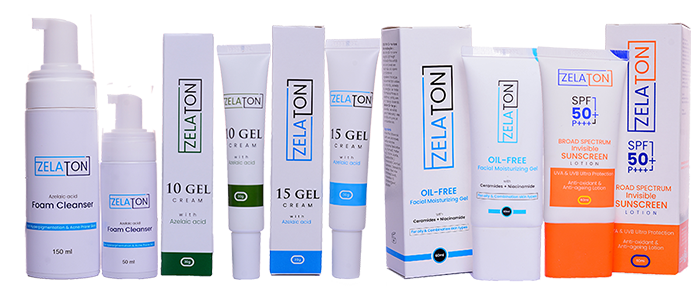 ---

ZELATON FOAM CLEANSER

Is gentle mild facial wash that effectively removes impurities, dead skin without the drying & tightening effect of hash soaps and detergents Infused with, Azelaic acid which gently exfoliates, controls acne-causing bacteria and balances skin tone.
---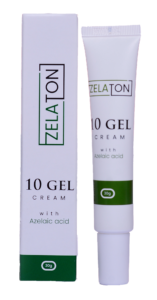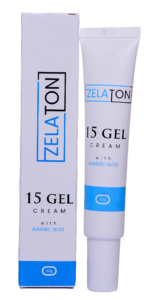 ZELATON 10/15 GEL CREAM

Zelaton 10 Gel Cream has antibacterial/anti-inflammatory properties that help decreases the swelling and redness in rosacea and acne. It's a non-comedogenic cream with 10% azelaic acid and niacinamide effective in managing hyperpigmentation, unclogging pores and evening out the skin tone, including old post acne dark spots.
---
ZELATON OIL FREE CREAM
Is an intense hydrating formula with; Aloe Vera and Niacinamide that soothes the skin and promotes collagen production. Low & High molecular weight Hyaluronic acid that  retains water up to 400 times its weight to plump-up the skin, smooth out the appearance of fines lines & wrinkles while offering deep miniaturization & hydration. 
---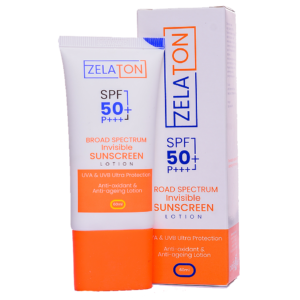 ZELATON SPF 50 LOTION
Is a unique anti-aging, invisible sunscreen lotion with strong UV filter that have ability to blend into the skin, offer  protection and add a glow to without a greasy feel. It a water resistant, light weight lotion suitable for all skin types. 
---