NIACIN-B
Niacinamide is a form of Vitamin B3 that's also known as nicotinamide. It's a water-soluble ingredient that works with the skin's natural substances to help repair its protective barrier function. Niacinamide can: –
Helps skin make more collagen, ceramides and hyaluronic acid;
Boosts skin hydration by reducing Trans Epidermal Water Loss;
Reduces signs of ageing, enlarged pores, wrinkles and hyper-pigmentation;
Reduces inflammation in mild to moderate acne just as well as, prescription-only treatments;
Limits overproduction of sebum in oily skin;
And more importantly is compatible with many skin actives ingredients hence easy to incorporate in your routine with less reaction.
Niacin In Acne Management.
The standard approach to acne treatments consists of modalities targeting excessive oil production, reducing bacterial infection, reducing inflammation and exfoliation to remove dead skin cells.
While all of these treatments are well-intended and effective, they often have predictable side effects which include dryness, redness, peeling, irritation and skin sensitivity making the therapy a bit intolerable to most patients.
Niacinamide's soothing and anti-inflammatory properties make it an attractive ADD-ON to the standard Acne treatments in an effort to increase efficacy and tolerability.
Studies have shown that Niacinamide can benefit acne prone skin because:
It increases epidermal production ceramides which in turn improves the integrity of the lipid layer and epidermal barrier allowing for a normalized moisture balance. This is an important component when treating acne given most topical treatments used do result in dryness and moisture imbalance.
Acne is an inflammatory condition that often leads to numerous pimples with delayed healing and scarring. Niacinamide has anti-inflammatory properties that can reduce the overall inflammatory response, resulting in fewer pimples.
Dysregulation of sebum can result in excessively oily skin and subsequently more acne lesions.  Having a good balance of oil and moisture within acne-prone skin is an important component for controlling the acne. Studies have shown 2% Niacinamide regulates excessive production of sebum.
Niacinamide can also stabilize the melanosome activity within the cells, which can improve residual hyperpigmentation from acne scars as well as those who suffer from melasma.
Niacin-B 5% Gel
Is a clear, light textured topical Vitamin B3 gel that can be used at any time of the day be it morning or nigh.
It contains 5% Niacinamide, an effective anti-inflammatory, anti-aging agent in managing acne, hyperpigmentation, fine lines, wrinkles and other inflammatory or age-related skin conditions.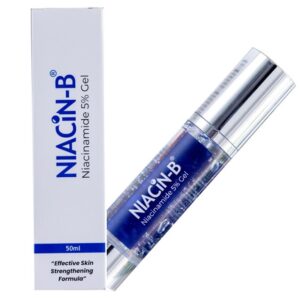 Niacin-B Serum
Is a combination of powerful antiaging, skin protecting ingredients that include Hyaluronic acid, Oats Extract Ceramides, Vitamin E besides the Niacinamide.  The combination has also proven to be very effective in reducing excessive production of oils/sebum in very oily acne prone skin.
Hyaluronic Acid is a strong hydrating ingredient that replenishes the skin's moisture, plumps up the skin and smooths out the appearance of fine lines for youthful looking skin.
Oat Active Extracts are rich in Sterols, Ceramides, Free fatty acids and Phospholipids that enhance rapid absorption of beneficial molecules, giving an immediate effect of
Supplementing lost skin lipids,
Assist in strengthening the dermis,
Prevent loss of elasticity and firmness
Enhance skin repair
Phospholipids also trigger gene pathways to physiologically increase production of ceramides, thereby improving the integrity of the skin barrier.
Niacin-B Serum is a powerful combination that repairs, renews and protects the skin's lipid barrier – helping to prevent and manage the signs of skin ageing.