SAHARA
Diligent use of Sunscreen prevents the development of sun induced skin damages such as burning, redness, dark spots, wrinkles, sagging and even skin cancers.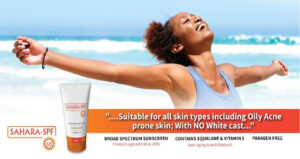 SAHARA SPF 50 Is a broad-spectrum water-resistant moisturizing sunscreen that protects against UVA rays, UVB rays and visible light with NO WHITE cast. It
contains Squalene and Vitamin E; high quality and versatile emollients with strong anti-oxidant, anti-aging properties, to reduce the effect of free radicals and skin aging.
Dermatologists recommend use of squalene for all skin types due to its non-comedogenic properties – for dry or oily skin, aging skin or even sensitive skin that's prone to acne,  Sahara SPF 50 will protect, moisturize and nourish without clogging pores.
Direction for use.
Dot the sunscreen directly onto your  face and apply it evenly and generously at least 30 minutes before sun exposure. Wear sunscreen after your skin moisturizer and re-apply frequently before and after swimming or during prolonged sun exposure.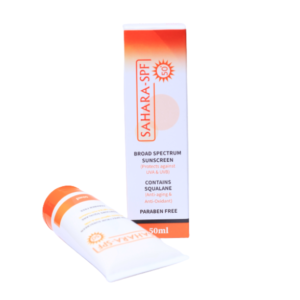 SPF 50
Non-Comedogenic
Broad spectrum
Water Resistant
No white cast.
Chemical Sunscreen
Suitable for all skin types including oily acne skin
Antiaging