Oatveen Skin Protectant Range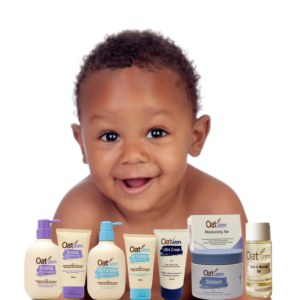 Skin Protectant Moisturizing Creams formulated with:
Colloidal Oatmeal
Ceramides
Essential Skin Vitamins
Why Colloidal Oatmeal?
Studies have proven the effectiveness of Colloidal Oatmeal in management of various dermatological disorders because of their: Anti-Inflammatory, Anti-irritation, Soothing, Moisturizing, Protecting and Cleansing benefits to the skin.
These benefits are as a result of Colloidal Oatmeal's wide array of phytochemicals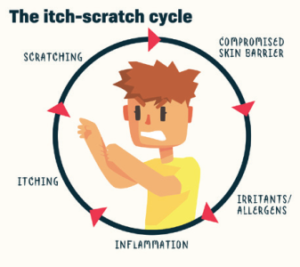 Itching leads to scratching which causes damage to skin barrier & integrity. This damage creates a feedback loop that increases the release of pro-inflammatory mediators, thus increasing the itching, continuing the cycle.
Avenanthramides (AVAs) are one of the principle antioxidants and anti-inflammatories phytochemicals in Colloidal Oat Meal. Studies have shown that Avenanthramides (AVAs) inhibit the release of pro-inflammatory cytokines and histamine that are crucial to breaking the itch scratch cycle.
Ceramides
Oatveen Skin Protectant Creams also contain Phytoceramides that are skin identical that can easily be incorporated to replenish the low ceramides levels in people with Atopic Eczema.
D-Pantenol
D-Panthenol is one of the vitamin ingredient in Oatveen. When applied topically, d-panthenol penetrates to the lower layers of the skin where it is absorbed and converted to Vitamin B5.
It's this penetration that allows essential stratum corneum hydration to maintain skin softness, elasticity while accelerating wound healing and calming effects.
Niacinamide or Vitamin B3
Niacinamide helps the body build more keratin. It's also an anti-inflammatory ingredient that's beneficial to inflammatory skin
conditions associated with most dry skin conditions.
Oatveen Skin Protectant Moisturizing  Creams also contain Shea Butter, Jojobar Oil and Vitamin E
---
Oatveen Eczema Moisturizing Cream
Enriched with high concentration of active ingredients (COM, D-Panthenol, Ceramides, Niacinamide, Jojobar Oil, Shea butter)
To enhance repair, hydration and moisturization while restoring the skin's protective layer.
To offer effective anti-itching and scratching within the first day of use.
Suitable for moderate to severe case of Atopic Eczema.
Stabilized at lower pH of around 4.9 to help balance the elevated pH in AD skin.
Reduces steroids overdependence especially in children with atopic eczema.
---
Oatveen All Purpose Moisturizing Cream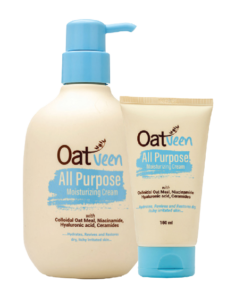 Formulated for normal or mild to moderate dry skin.
Ideal as an ADD-ON moisturizer to harsh drying acne treatment e.g. Isotretinoin; to ease the dryness, irritation, skin sensitivity and enhance patient's compliance to medication.
Contains higher concentrations of non-comedogenic ingredients like Oat Lipids, Hyaluronic acid, Shea butter among others; making it a suitable facial moisturizer with antiaging benefits.
A daily moisturizer for both children and adults.
---
Oatveen Ointment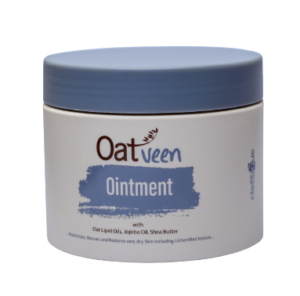 Formulated with Oat extracts oils, Shea butters & Jojoba oil to hydrate and repair very dry cracked skin and lichenified lesions in eczema, psoriasis and other related conditions.
As soap Substitute: – Apply all over the body, more thickly to the plaques of psoriasis, eczema and dry areas before stepping in the shower. Rinse off in the shower with lukewarm water using your hands or a soft sponge.
For external use only. Avoid contact with eyes. Keep out of reach of children
---
Oatveen Moisturizing Bar
Formulated with Colloidal Oatmeal, Vitamin-E and Glycerin.
Oatmeal contains saponins; natural cleansing compounds that absorb dirt on the skin's surface allowing easy rinse off without too much rubbing that disrupts the skin's barrier.
Vitamin E promotes fast skin healing, reduces scarring and helps maintain the skin's natural glow.
---
Oatveen Bath & Massage Oil

An emollient bath additive and massage oil that forms a protective film on the skin surface reducing moisture loss when managing large areas of dry skin.
Mix approximately 10 -20ml of the Bath & massage Oil in about 5 liters of lukewarm bath water, Soak in/rinse the whole body for about 5 mins, then pat to dry the skin with a clean towel.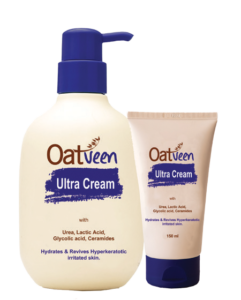 Oatveen Ulta Cream
Oatveen Ultra is a topical formulation with improved antimicrobial effect comprising of alfa-hydroxy acids (Glycolic
& Lactic acid), Urea, Salicylic acid & Glycerol for management of hyperkeratotic and scaling skin disorders like ichthyosis, psoriasis, cradle cap, dandruff, keratosis, xerosis among others.
The unique combination of ingredients targets:
–  The hyperkeratosis,
–  Potential overgrowth of microorganisms on the skin surface,
– To promote normalization of the skin,
– Reduce signs of ageing especially hyperpigmentation & skin roughness.
Alpha-hydroxy acids (Glycolic & Lactic acids) reduce the cohesion between the corneocytes & interfere with the bonding between the cells, which causes an increased cell turnover at lower pH.
Urea is a naturally occurring humectant in human skin and it has also been discovered as a barrier-improving substance. The most well-known dermatologic effects from urea is its ability to unfold, solubilize and/ or denature proteins. High concentrations of urea above 10% in creams targeting severe cases ichthyosis and other  yperkeratotic conditions were found to have a pronounced keratolytic effect that made the subjects' skin soft and pliable.
Salicylic acid is used at low concentrations in the formulation to promote the keratolysis and further strengthen the antimicrobial properties of the cream.
Glycerin ameliorates dry flaky skin by facilitating the digestion of the corneodesmosomes in patients with very dry skin.
Oatveen Ultra also contains Niacinamide & D-panthenol
The hyperkeratosis, Potential overgrowth of microorganisms on the skin surface, To promote normalization of the skin,Reduce signs of ageing especially hyperpigmentation & skin roughness.
---