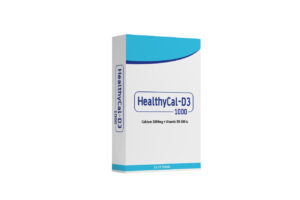 Calcium is the most abundant mineral in the human body that's vital for healthy bones and teeth. Calcium also plays a critical role in blood clotting, muscle contractions, normal heart rhythm regulation and nerve function.
Getting enough calcium is very important especially for men and women over 50 years, expectant and breast feeding mothers and after menopause.
HealthyCal-D3 is scientifically developed on the basis of latest research to include calcium carbonate which contributes to the maintenance of normal body and bone health.
Directions for Use
Adult: Take 1-2 tablets per day with food or as recommended by the doctor or pharmacist. Swallow with water or cold drink. NOT to be chewed.
DO NOT EXCEED the recommended dose.