EPIMOL-E CLEANSER BAR – Is specifically formulated for Eczema and other related dry skin conditions. It's a fragrance and soap FREE emollient cleanser made from carefully selected ingredients that include synthetic Oils, Glycerin and Vitamin E.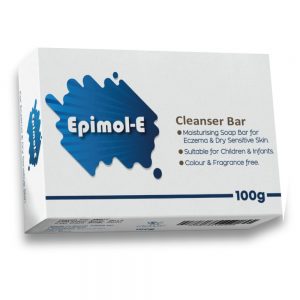 Vitamin E is a natural antioxidant that promotes fast skin healing, reduces scarring and helps maintain the natural glow of the skin while Glycerin on the other hand attracts and locks moisture on the skin making it smooth and supple to touch.
EPIMOL-E Emollient Cleanser Bar is a mild and gentle cleanser for daily use on Babies, Children and Adults with delicate and sensitive skin.