Epimol-B Baby & Junior cream – Is formulated for baby's sensitive & delicate skin, to help build and restore its protective barrier function while offering long lasting moisturising and soothing effect on even irritated skin.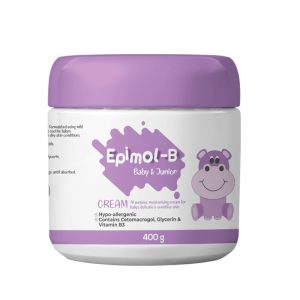 Epimol-B baby & Junior Cream can be used as a daily moisturizer on the baby's face/body; as a soap substitute during eczema flare-ups and as a base for mixing corticosteroids/prescription medications.
Epimol-B baby & Junior Cream Paraben Free, Fragrance Free, SLS Free and Steroids Free.