Epimol-B All Purpose (AP) Lotion –  Suitable for both adults and children with normal or dry skin. The innovative combination of Cetomacrogol, Niacinamide and Glycerine, gives Epimol-B AP lotion excellent soothing and hydrating properties making it most suitable family emollient lotion for daily use on all skin types including atopic dermatitis prone skin.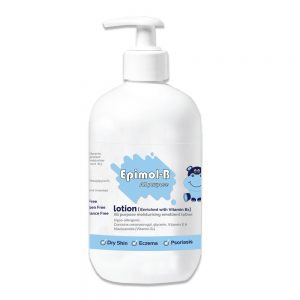 Epimol-B lotion also contains Vitamin E, a natural antioxidant that promotes fast skin healing, reduces scarring and helps maintain the natural glow of the skin.
Epimol-B All Purpose lotion is Paraben Free, Fragrance Free, SLS Free and can be used as a base to mix corticosteroids/topical prescription medications.