Chlorhexidine Scrub Brushes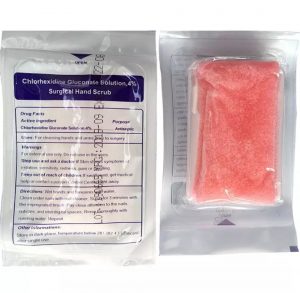 Chlorhexidine Scrub Brushes contains Chlorhexidine Gluconate Solution 4% which is an antiseptic for cleansing hands and arms prior to surgery.
Direction of Use
Wet hands and forearm with water, Clean under nails with nail cleaner, Scrub for 3 minutes with the impregnated brush, Pay close attention to the nails, cuticles, and interdigital spaces. Rinse thoroughly with running water. Repeat.
Warnings
For external use only. Do not use in the eyes.
Stop use and ask a doctor if skin shows symptoms of irritation, sensitivity, redness, pain or swelling.
Keep out of reach of children. If swallowed, get medical help or contact a poison control center right away.
Store in a dark place and discard after single use.