OatVeen All skin Moisturizing Cream – Is formulated with Colloidal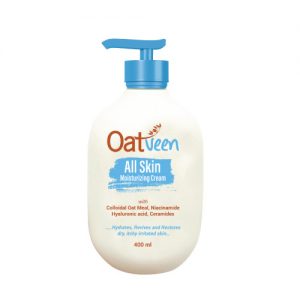 Oatmeal for all skin types in both adults and children – for centuries, colloidal oatmeal has been used in managing dry, itchy or irritated skin conditions such as rashes, eczema, psoriasis among others; due to its soothing and healing properties.
OatVeen All skin Moisturizing Cream is also fortified with modern innovative ingredients like Hyaluronic acid, Niacinamide, Oat Kernel Extract and Shear butter for enhanced moisturisation, soothing, restoration of protective skin barrier function and promote fast skin healing.
Cation.
For external use only. Get medical advice if swallowed. Do not get into Eyes. Keep out of Children Reach.
Direction for Use.
With your palm, apply directly to the skin to moisturize and soften dry skin. As soap substitute, apply directly to the affected areas and use warm water to create a lather, then rinse off – Suitable for both adults and children.
Store below 30C
Ingredients.
Aqua, Colloidal oatmeal, Petrolatum, Glycerin, Cetomacrogol, Niacinamide, Dimethicone, Butyrospermum Parkii (shear butter), Avena sativa (Oat) Kernel Oil, Cetearyl Alcohol, Oat Kernel Extract – (polar lipids, Ceramides, phospholipids), Phenoxyethanol, Ethylhexylglycerin, Citric acid.